Window + Door Introduces Awake's Innovative New Pivot Door
December 6, 2022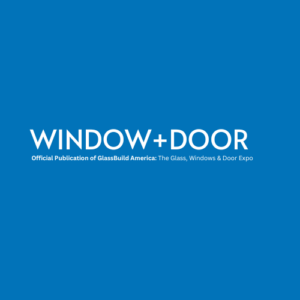 On September 14th, 2022 Window + Door (windowanddoor.com) released an article introducing our innovative new Pivot Door. This product launch is very exciting news for us here at Awake, as the pivot door rounds out our already robust product line. We are tremendously grateful to work with such an esteemed publication as Window + Door. Here is a brief excerpt of the article:
Awake Window & Door Co., a North American luxury window and door system the manufacturer based in Arizona, unveils its innovative new 555 Series Pivot Door to the public for the first time. This new addition to Awake's product family is rather complementary in nature as it continues the narrative of "Less us. More view."
The talented engineering team at Awake engaged in extensive research and development to overcome some of the challenges commonly found in pivot door designs across the industry. These requests included integrating the overhead closer mechanism, creating an unrestricted pivot point assembly, and providing minimal sightlines for maximum views.
With the introduction of the pivot door, Awake is able to provide a solution with endless possibilities. These features include a maximum panel size of 96" x 144" (96 Sq ft.), jamb depths as small as 4.5", three sill types, multiple handle options, and the ability to insert or mull it within the existing product family. However, "the new Pivot Door would not have been possible without the in-house design of our proprietary, unrestricted pivot point," added Dustin Wright, Vice President of Engineering & Design..
"Awakes steadfast belief in solving complex problems with innovative solutions is no more evident than in the elegance and beauty of our new 555 series Pivot Door" says Andrew Darr, CRO. "Being able to take the time to listen to the requests from homeowners, architects, builders and dealers is incredibly important to us at Awake, and we embrace finding a way to 'say yes' to what they need." continued Darr.
With this addition to its product family, Awake reaffirms its dedication to continue to bring to market some of the most desirable windows and doors which will help create jobs for those that need it most.
Check out the rest of Awake's products at: Products – Awake Window & Door Co. (awakewdc.com)
If you would like to read more of the article you can check it out here: Awake WDC Launches New Pivot Door | Window + Door (windowanddoor.com)