Product Improvement: New Slotted Sill for High Based Sills
March 9, 2023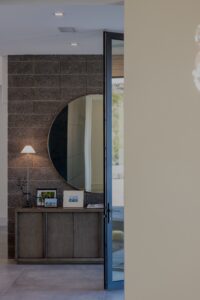 As our Series 505 door has made it into the field, we have recognized a handful of applications with market demand. However, due to inclement weather conditions, we insisted they defer to another one of our products. Seeing this demand, we felt it critical to find an innovative solution to this problem. One that would allow us to deliver an option with higher water protection than the low sill while maintaining the narrow sight lines of the current high sill option of only 4.37".
During the research and development of the Slotted sill option, we found that by incorporating a linear slot running the sill length, we could essentially create a channel to guide the water to a more appropriate location. By adding the slotted sill option to the series 505 Hinge door High sill, we continue to deliver the most innovative solutions without sacrificing the quality and craftsmanship you have come to expect from Awake.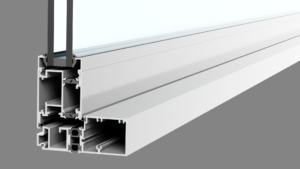 When we set out to tackle this challenge the cry from the market was: "Better water protection and mitigate risk, without changing the look; The new slotted sill feature on the series 505 hinged door not only adds a sleek and modern design element but also improves functionality by mitigating water risk and providing added protection" Dustin VP of engineering & design pointed out.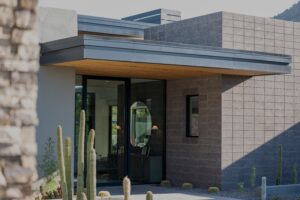 As we grow as a company, we continue to evaluate the specific challenges and demands of an ever-developing marketplace. In recognizing this we promise to continue to innovate and improve our products in rapid succession to continue delivering the solutions you need. Additionally, this option is currently available as one of the many features the hinged door provides.
For additional information on the Series 505 hinged door and its many features and benefits. Hinged Door – Awake Window & Door Co. (awakewdc.com)
For more information or if you would like to contact us, we have provided a list of options below: Awake Window & Door Co. (awakewdc.com)
Learn more about the products, social mission, and vision of Awake by visiting News – Awake Window & Door Co. (awakewdc.com)
About Awake Window & Door Co.
Awake Window & Door Co. Is a luxury window and door system manufacturer with minimal frames designed to maximize views while combatting mass incarceration. Our family of products is designed to help architects, builders, and homeowners achieve their ambitious design goals with massive sizes, competitive energy values, and immense design flexibility. Our stakeholders play an active role in our social mission of creating second-chance employment for formerly incarcerated individuals.  Our custom products are sold through a talented dealer base throughout North America.