Awake WDC launches new website and begins taking & producing orders
December 6, 2022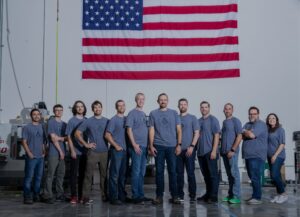 GILBERT, Arizona – Today, Awake Window & Door Co., a North American luxury window and door system manufacturer based in Arizona, launched its full website and has also declared their manufacturing facility officially "open for business" as they begin shipping production orders in the last few months of 2021.
Awake was co-founded in late 2020 by Scott Gates, John Engelstad, Andrew Darr, and Maria Gates with an ambitious vision. After educating themselves on the deep issues surrounding mass incarceration and the soaring recidivism rates faced by formerly incarcerated individuals, their dream was to create a business focused on second chance employment for this vulnerable people group.
"We knew the 'why' of our business was rooted in a desire to create employment opportunities for a people group that is often overlooked and under-estimated. The 'what' and 'how' of that business ended up circling back to our decade plus of experience leading and growing a window and door business in Arizona," says Scott Gates, CEO of Awake Window & Door Co. "We felt it would be incredible to show the market that some of the most vulnerable in our society are capable of building luxury window and door products that people love."
The talented engineering team at Awake spent the past year designing and developing a full family of minimal frame window and door products that work well for the contemporary architectural market. Their product family includes thermally broken aluminum multi-slide doors, hinged doors, window walls, casements, awnings, and sliding patio doors. The design philosophy focused on sightline reduction and sightline consistency across products, glass size maximization, wind load and water management, and energy efficiency. The final results included door interlocks as narrow as ¾", door heights up to 18' tall, innovative self-draining sills, casements that can be built up to 108" tall, and a full product family of tested and certified products.
"Today, we are excited to officially announce that we are open for business and are actively taking and producing orders for our dealer network across North America," says John Engelstad, COO of Awake. Awake management was quick to point out that this large effort to launch this family of products was a collaborative effort across all stakeholders. "We want to thank all the architects, dealers, installers, and suppliers that helped inform and shape our design and get this complex product family to market," added Andrew Darr, Chief Revenue Officer.
As the company tips from startup mode into active manufacturing, Awake is beginning to actively hire and staff their manufacturing team at their facility in Gilbert, Arizona. Their social mission of second chance employment is explained in detail on their website, is woven into the product series names, and is front and center on all job postings.
"Awake does not exclusively hire formerly incarcerated individuals, but, we do actively look for people that want to be a part of the solution instead of the problem," says Maria Gates, Chief People Officer of Awake. "We are proud to partner with great nonprofits around the valley and help this people group know that we would be honored to have them on our team."
For more information or if you would like to contact us, we have provided a list of options below: Awake Window & Door Co. (awakewdc.com)
Learn more about the products, social mission, and vision of Awake by visiting News – Awake Window & Door Co. (awakewdc.com)
About Awake Window & Door Co.
Awake Window & Door Co. Is a luxury window and door system manufacturer with minimal frames designed to maximize views while combatting mass incarceration. Our family of products is designed to help architects, builders, and homeowners achieve their ambitious design goals with massive sizes, competitive energy values, and immense design flexibility. Our stakeholders play an active role in our social mission of creating second chance employment for formerly incarcerated individuals.  Our custom products are sold through a talented dealer base throughout North America.