Improved communication protocols for shipping and receiving.
March 9, 2023
At Awake we feel it is of great importance to continue to enhance every facet of our business. During our growth and development over the last year, we have found a few areas of opportunity to improve the customer and partner experience. One of the areas is communication throughout the shipping and receiving process. We understand the challenges and stressors that can come with this phase of your project and want to help make it more concise and user-friendly. Below we have compiled a detailed overview of some areas in that we have made improvements.
Labels – Overview and Benefits

Standardize labeling across awake products and provide consistency in the data provided across products and assemblies.
Ensure alignment between product labels and shipping manifest.
Provide color-coded labels to quickly identify key items:

White – Standard label – should always align with the shipping manifest.
Yellow – Informational label – Typically a special note related to installing type information.
Red – Missing Item Label – Used whenever we have to back-order a component.

We try to prevent this but from time to time due to supply chain issues we may need to ship without a component (end sweep, etc.); this label helps flag to Awake internally that a part is missing to ensure we properly track the back order and notify the customer; it also assists the customer when unloading/installing to know a component was shipped separately.

Label Placement – in addition, we have standardized the placement of our labels to ensure they will be readily visible. The labels will be placed on top of each product bundle.
1. Traveler for Knock Down Fixed Windows
2. On larger fixed windows that cannot be shipped assembled the manufacturing team will bundle extrusions together based on sizes and weight. The goal is always to produce the fewest bundles while simultaneously keeping them light enough for safe handling and shipping. Since the number of bundles can vary greatly from one unit to the next the new traveler form is used for the manufacturing team to document how a given unit is bundled; in turn, Awake's shipping team can now use that form to ensure all items are loaded. Finally, a copy of the traveler will be included with the manifest for the customer to unload and sort.
3. We also implemented a change to require that if multiple quantities are ordered of the same unit we bundle each unit's extrusions separately with their own traveler form. This way a single unit can be installed at a time without unbundling extrusions for another unit. The shipping manifest was also be updated to show all extrusions as a single line item with a reference to see the "traveler sheet" for details.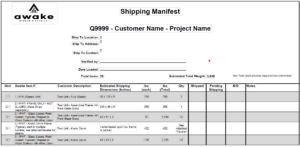 Feel free and contact us with questions or for more information check out
Contact – Awake Window & Door Co. (awakewdc.com)