Unveiling Awake's Custom Developed Pricing Program
November 30, 2022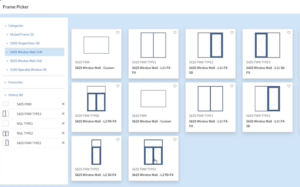 When Awake Window & Door Co. was founded in late 2020, the vision for the company was to be known for creating innovative solutions to complex problems. One of the most complicated problems in the window and door industry is the need to create a comprehensive and detailed quote, but also create comprehensive and detailed CAD drawings. While both serve a critical role, they also serve as competing sources of record, which leaves opportunity for discrepancies that can surface late in the process and can also extend lead times while adding tremendous friction at time of order entry. 
For this reason, Awake has always been committed to the development of a custom quoting tool that will be able to create both the quote details and the CAD drawings in one software platform. This critical functionality drove us to partner with a company called Soft Tech, a leader in software for the window and door industry. Utilizing their powerful, BIM-based quoting tool called V6, we worked with their engineers to develop a custom user interface specifically for dealers. The end result is one of the best and most robust dealer quoting tools the window and door industry has ever seen.   
Under development for a year-and-a-half, Awake will launch the new quoting tool to our dealers in early 2023. The web-based software is fast, easy-to-use, and loaded with custom capabilities. Our goal was to develop a software so robust that the majority of quoting can be done without assistance from Awake. And best of all, when your quote is complete, you can press a button and within a short amount time, you will have PDF and DWG/DXF shop drawings with elevations and section details available for your customers. While there will always be a place for custom requests and CAD needs, we are thrilled with how much our dealers will be able to complete directly out of the quoting tool.  
While the official launch date is not confirmed, we expect dealers will be creating their own quotes utilizing this new software in early 2023. We cannot wait to show you what our team has been hard at work creating for you. Just like our products, you are going to absolutely love it.  
If you would like to learn more about Awake or SoftTech feel free and check out the links below:
Home – Awake Window & Door Co. (awakewdc.com)
Software for the window and door industry | Soft Tech