Agnora Glass Best Practices for Jobsite Delivery
March 15, 2023

Receiving a large glass delivery from Agnora glass? Are you prepared? Do you have the right equipment, need to know what to expect? Due to the size and complexities of these shipments, we have worked with Agnora to provide you with a helpful guide to assist you in managing these deliveries.
Some of the topics included in this helpful guide are:
Introduction to safety
Product loading process
Delivery site preparation
Product offloading & Transportation
Product storage
Along with additional information
This guide will be conveniently located in the "Support" section drop-down under the "Installation" section. Also available for download at Install Instructions – Awake Window & Door Co. (awakewdc.com)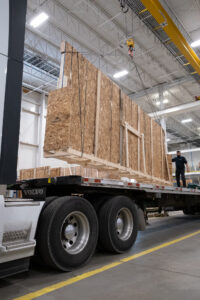 We understand the many challenges and stressors of job site deliveries and in recognizing this we feel it imperative to help. To address this need we have worked hand in hand with one of our specialty glass suppliers Agnora Glass to create a helpful guide to assist you throughout this process.
For more information or if you would like to contact us, we have provided a list of options below: Awake Window & Door Co. (awakewdc.com)
Learn more about the products, social mission, and vision of Awake by visiting: News – Awake Window & Door Co. (awakewdc.com)
To learn more about Agnora and their cutting-edge processes visit them at: Agnora – Fabricators of Oversized Architectural Glass
About Awake Window & Door Co.
Awake Window & Door Co. Is a luxury window and door system manufacturer with minimal frames designed to maximize views while combatting mass incarceration. Our family of products is designed to help architects, builders, and homeowners achieve their ambitious design goals with massive sizes, competitive energy values, and immense design flexibility. Our stakeholders play an active role in our social mission of creating second-chance employment for formerly incarcerated individuals.  Our custom products are sold through a talented dealer base throughout North America.